Despite the challenges of the first half of 2023 in Asia Pacific, demand is predicted to increase for the rest of the year with recovery expected in 2024.

Picture credit: Incheon International Airport Corporation
In South Korea, Seoul's Incheon International Airport handled 2.95 million tonnes of cargo in 2022 and has started 2023 with 640,000 tonnes in the first quarter.
Sang-yong Lee, Executive Director of Logistics at Incheon International Airport Corporation (IIAC) says cargo volumes decreased in the first half of 2023 but are expected to increase in the second half with recovery likely to get underway in 2024.
By value, semiconductors, pharmaceuticals and computer storage media are the main imports and exports handled at Incheon, with automotive parts, plastic products and cosmetics are the main products by weight.
In recent years, e-commerce has boomed with annual growth averaging 27% over the past five years. Pharmaceuticals have been another strong area with growth averaging 21% and agricultural and fishery products have also grown well, averaging 12%.
Increased demand for pharmaceuticals and e-commerce were two major changes noted during the pandemic.
"In response to the increased cargo demand, some airlines have converted passenger aircraft into cargo planes to actively meet the growing demand. IIAC also made efforts to maintain the airport ecosystem by reducing airport fees. The pandemic-driven shift to contactless culture has boosted the demand for e-commerce, particularly increasing the cargo volume for companies like FedEx," comments Lee.
IIAC has been developing and developing logistics complexes at the airport since 2006, covering an area of 1.98 million square metres and there is a cargo terminal covering 1.32 million square metres.
Over 50 companies have invested in cargo terminals and warehouses and many major Korean and international companies have either self-operated warehouses or leased warehouses within the complex.
"IIAC will continue to make active efforts to attract global logistics companies in the future," says Lee.
The Asia Pacific region was affected by strict lockdown restrictions in China, which were lifted at the start of this year. Lee reports that volumes to and from China were down 16% last year due to the global economic slowdown and China's lockdown measures.
He says, "The reduced cargo volume by the Covid restrictions in China is estimated to be 3% (about 100,000 tons) out of the overall cargo volume at IIAC. However, it is expected that the lifting of restrictions in China will contribute to the recovery of cargo volume in the future."
IIAC is actively working to make Incheon a good place to do business, says Lee, by having the right logistics infrastructure in place and by working with agencies to minimise customs and tax burdens with initiatives such as expanding the economic free zone. Cargo handling is being streamlined through initiatives such as the Known Consigner system.
Working with companies is important to understand their requirements, so IIAC is promoting the Built-to-Suit (BTS) method where potential cargo terminal operators propose designs, IIAC reviews the proposal then builds it.
Lee says, "The BTS method offers advantages for cargo terminal operators, as it requires minimal initial costs. Furthermore, IIAC is actively acquiring privately developed cargo terminals and reinvesting in them to revitalise the logistics complex."
Incheon's objective is to be a leading cargo airport, which it is doing by establishing a community for obtaining CEIV certificates, supporting cost burdens and offering them facilities.
Advanced technologies such as AI are being embraced to automate cargo handling and is developing a testbed for the construction of a smart cargo terminal.
"Incheon Airport's goal is to become the world's leading cargo airport by continuously making efforts in these areas," continues Lee.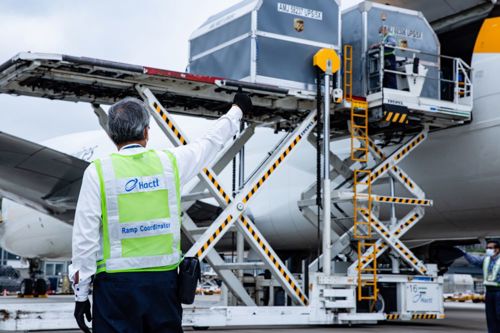 Long-term view
Over in Hong Kong, Wilson Kwong, Chief Executive of Hong Kong Air Cargo Terminals (Hactl) admits that the current climate is challenging but this does not affect the long-term outlook.
2022 presented challenges due to US-China relations and the war in Ukraine affecting energy prices, causing consumers to cut spending, which impacted airfreight volumes.
This meant Hactl ended 2022 around 2020 levels and 5% above pre-Covid volumes. This year has been challenging for everyone.
Kwong comments, "We hope that there will be some recovery in H2, due to a slowing in inflation. But it has not damped down our long-term positivity, and we continue to invest strongly in all aspects of our business so that we are better equipped to deal with future market needs."
The lifting of Covid restrictions means that capacity is returning to the market to cater for passengers as cargo faces a softer market, depressing rates for airlines.
Locally, Kwong says it is easier to operate cross-border road feeder services and quarantine rules are no longer causing manpower issues.
Quarantine rules were an issue during the pandemic when all immediate colleagues of a Covid case would have to quarantine for up to 21 days, which reduced the ramp workforce by 40% on one occasion.
Kwong explains, "Fortunately, we had already introduced many new efficiency measures which, when coupled with the improved resource management enabled by our new Integrated Hactl Control Centre, mitigated most of the impact and led to minimal delays and flight cancellations."
The pandemic changed the way Hactl did business with a new wide-area-network infrastructure so admin staff could work remotely without compromising data security.
Other measures included streamlining and digitising processes so paperwork was eradicated, moving training and business meetings online, and opening the new Integrated Hactl Control Centre to monitor and manage the facility.
He says, "The result of all these initiatives is a much more efficient operation that is also resilient in the event of any future pandemic or major disruption."
As the world's busiest air cargo airport for several years, Hong Kong remains an attractive hub helped by its location in Asia, proximity to China and the frequency of international flights.
The infrastructure is highly automated and efficient, and the workforce are highly skilled and bilingual.
Kwong has high expectations for the region with ASEAN countries expanding their manufacturing capabilities.
He adds, "This will generate more trade within the region and more trade with the world, and lead to more prosperity that will drive demand for a more westernised lifestyle and the commodities that go with it. That adds up to a lot more airfreight in every direction."
This article was published in the June issue of Air Logistics International, click here to read the digital edition and click here to subscribe.