Virgin Atlantic Cargo has made its capacity available on cargo.one and had its golden gorilla mascot returned after it was borrowed at Air Cargo Europe 2019.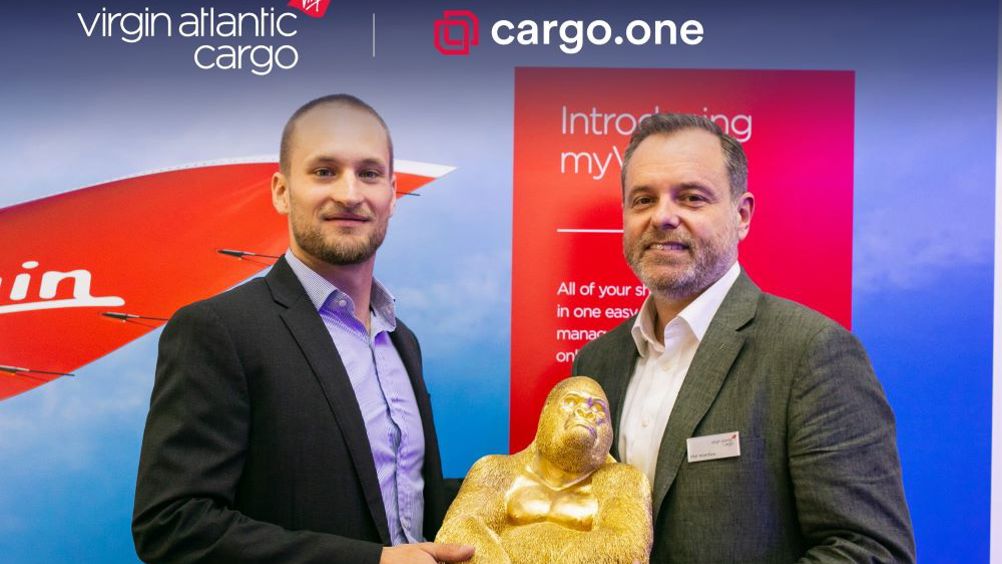 Signing up to the booking platform gives Virgin access to a digital distribution channel with a user base of 15,000 freight forwarders in over 75 countries.
Virgin Atlantic Cargo has a network of 400 destinations including daily services to key destinations in the US, India, China, Nigeria, South Africa, Israel and the Caribbean.
The partnership will offer users with instant bookings for Virgin's latest range of products with customers able to customise handling, speed, priority and price by choosing from Classic, Priority or Express rates.
Phil Wardlaw, Managing Director of Virgin Atlantic Cargo says that a significant proportion of bookings are expected to be completed online by 2025 so it is important to have the right partners to give customers the best choices.
He says, "We always strive to create brilliantly different experiences for our customers, which is why we're pleased that cargo.one shares our commitment to exceeding customer expectations, making air cargo easier for everyone and ensuring that every touchpoint is not only optimal but also meaningful. Above all else, every digital booking with Virgin Atlantic Cargo comes with expert support and a human touch at every step".
"We're also relieved to be rightfully reunited with our treasured mascot — that cargo.one brazenly bagged years ago, in full view of the cameras," Wardlaw adds.
Moritz Claussen, Founder and Co-CEO of cargo.one, says, "Both Virgin Atlantic Cargo and cargo.one share a passion and uncompromising dedication to customer experience and have won freight forwarders' love and loyalty as a result. We will work together to build digital journeys that fully capitalise on Virgin's attractive offers while guaranteeing customers experience the care and expert support they value for their shipments. It is the very best of circumstances in which to return the Virgin team's prized primate."
During the 2019 Air Cargo Europe trade fair, Virgin Atlantic's golden gorilla mascot mysteriously disappeared. A video has surfaced online showing its disappearance and negotiations of its return, click here to view.