Shippers and freighter forwarders are signing longer contracts, signalling more common ground in a stabilising air cargo market, according to industry analysts, CLIVE Data Services, part of Xeneta.

The number of six-month agreements rose to 36% in Q1 of 2023 compared to 23% in Q4 of 2022, which Niall van de Wouw, Chief Airfreight Officer of Xeneta says indicates forwarders want to lock in customers for a longer period of time.
The latest data comes at a time when retailers are raising concerns over the hoped for rise in consumer spending later this year and the ned to restock inventory levels.
Van de Wouw says, "I think we're seeing signs that some forwarders are willing to take a little more risk on what airfreight rates might do because they don't expect the market to drop much further. Everybody wants to achieve growth, but if the market is not growing, you have to grab a share from someone else."
Global cargo volumes have fallen for the past 13 months but March was the smallest drop in over a year at just 3% year-on-year.
General airfreight spot rates were down 38% year-on-year, averaging $2.62 per kilo, and down 4% on February due to falling cargo volumes and rising capacity.
Cargo capacity continues to recover with a 16% year-on-year increase, which pushed the dynamic load factor down 6 percentage points to 60%.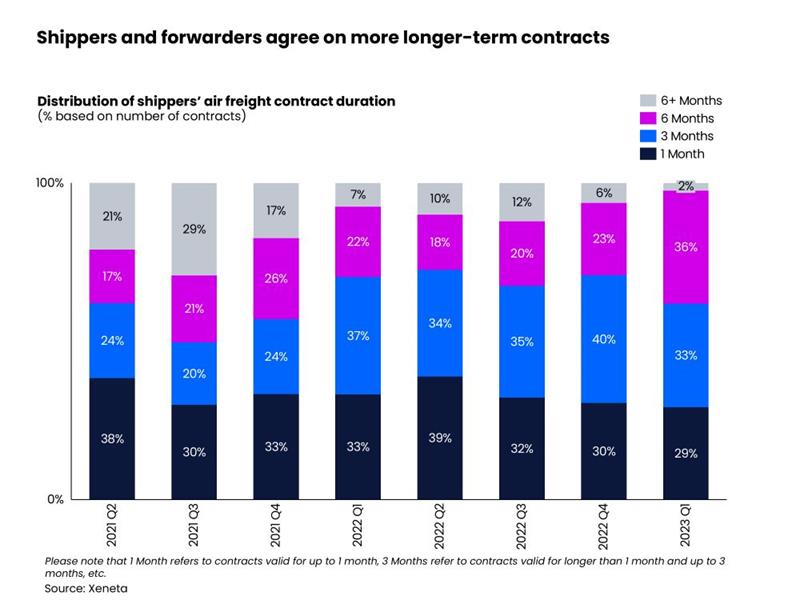 The previously resilient transatlantic westbound trade lane registered a decline of 11%, which was in line with the latest manufacturing PMI data from Germany and the UK indicating shrinking manufacturing activity.
Average general spot rates from Europe to the US fell 46% in March to $2.71 per kg.
Out of China, March volumes were 30% higher than in February and 2% below last year and capacity is growing with a 63% increase from China to Europe month-over-month and 155% year-on-year.
Van de Wouw says shifting to longer term contracts will benefit shippers' logistics purchasing departments who have been forced away from traditional annual deals.
He says, "Their core business is making pills or smartphones, for example, and not about having to renegotiate air freight rates every week or every month. We see a calming down and a greater appetite for shippers and forwarders to come together on a longer term. There's more common ground for longer-term deals in a positive way. The next interesting market development is what airlines do with their summer schedules and the further capacity boost this traditionally brings?"