Global air cargo demand dropped 4% in April and bellyhold capacity flooding back on to the market indicates a challenging few months ahead, according to CLIVE Data Services, part of Xeneta.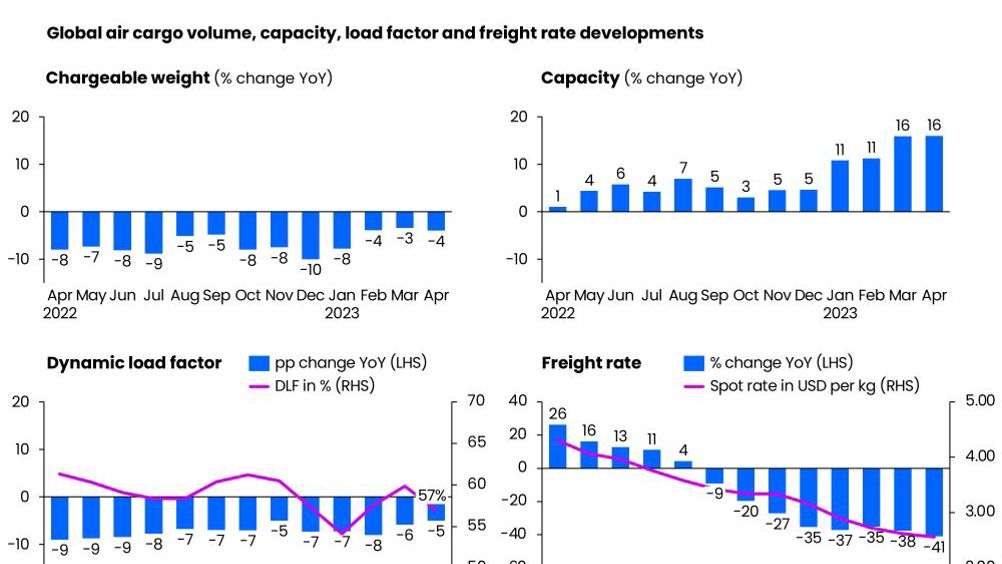 April is the 14th consecutive month posting falling year-on-year volumes and spot rates are down 41% as the 7% rise in capacity lowered load factors.
Summer capacity had its traditional profound impact on air cargo from Europe to North America, up 26% on March, pushing load factors down 10 percentage points to 57%.
CLIVE says April's performance recorded a level of seasonality expected for the time of year and volumes were impacted by the Easter, Eid, Pesach and Ramadan public holidays coming closely together but it could not disguise the dwindling market conditions.
Niall van de Wouw, Chief Airfreight Officer of Xeneta, says shippers will be happy but freight forwarders less so, saying, "While the strong return of the leisure passenger market, and signs of improving corporate travel and lower fuel prices, is making passenger airlines upbeat and providing the long-awaited boost they needed. Of course, we should not forget that freight rates are still elevated but the influx of belly capacity this summer means the air cargo market may have to hang on until October, when winter schedules begin and capacity is reduced, for the next signs of an upturn in volumes and yield."
Whether demand will rise in Q4 remains uncertain as shippers are pushing back on expectations of a big inventory replenishment later this year, says van de Wouw.
He says, "The market is in the doldrums we do not currently see this changing until much later in the year or early 2024. The air cargo market is readjusting and this will also open up new opportunities, but we see a difficult few months ahead. Right now, we don't see any 'ripples on the water' to indicate more wind to give the market an uptick in volumes in the near future."