War, sanctions and lockdowns have added to the mess faced by global supply chains, according to CLIVE Data Services.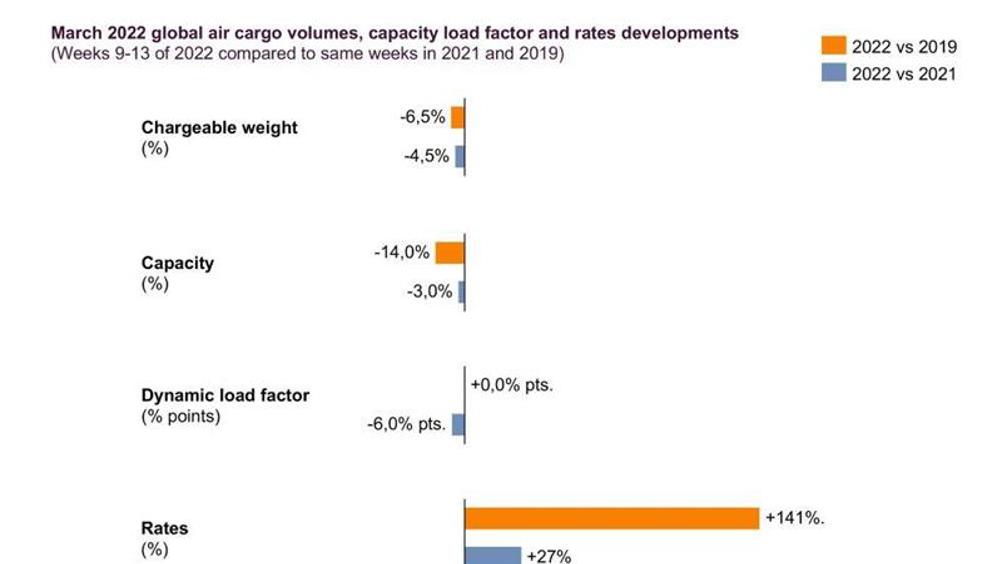 Global air cargo volumes were down 4.5% in March compared to a year ago, and down 6.5% on 2019 as the world deals with war in Ukraine, sanctions and the closure of Russian airspace, and Covid lockdowns in China.
Capacity was down 14% compared to March 2019, exacerbated by the closure of Russian airspace, which immediately resulted in flight cancellations and capacity between Europe and north east Asia falling 20%.
The dynamic load factor, which considers both the volume and weight of cargo flown, was 66%, 6 percentage points lower than March 2021.
Rates remain high, 141% above March 2019 and 27% above March 2021, and much of the capacity has been placed on short-term spot rates.
Niall van de Wouw, Chief Airfreight Officer at Xeneta, which owns CLIVE, calls March a step back, saying: "We have been reminded of how the limited control the general airfreight market has over its own destiny and how it is impacted by passenger traffic trends, disruption in the ocean freight market, and geopolitical events."
The dynamic load factor from Europe to North America was down 5% to 83%. Van de Wouw says that despite capacity increasing 40%, volumes increasing 25% have kept load factors high.
It is too early to say what the impact of inflation will be, says van de Wouw, but ocean freight disruption is benefiting airfreight.
He says: "With continuously declining schedule reliability of the ocean liners, logistic departments will likely be required to resort to airfreight because of disruptions to their supply chains caused by these record low service levels."
Issues on the ground remain, with one bottleneck getting replaced by another. Van de Wouw says Shanghai's lockdown adds to the issue of staff absence caused by Covid, adding that it is no surprise that the International Monetary Fund is blaming increased shipping costs for driving up inflation.
He says: "Right now, the airfreight and ocean freight markets are in general a mess, with shippers and consumers having to pay the price. In the first two months of 2022, we were talking of growing resilience in the airfreight market and a recovery to pre-Covid levels. March data shows how quickly this can change."